'This is One Dog Loving Community!'
The TailGait Market opened in 2010. We saw a huge need for quality products that either were not available at all in our area, or were an hour away. This is one DOG LOVING community!
A specialty pet supply focusing on health had been rolling around my head for many years. I wanted to make available the great products that I knew were out there, but not widely available to the general public. Products that work are HIGH-QUALITY, or just plain fun. Having a background in food and nutrition, plus training and showing dogs, gave me an inside to some great products. We really want all dogs and cats to have the benefit of quality food, the right supplements, interactive play and fun. That all makes for dogs and cats those are healthy in Mind and Body! We are VERY lucky to have some great women working for us, all who have their own special set of skills and interests.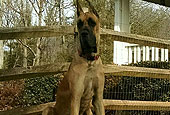 Andrea Demmons, Owner
Years owning Dogs: - 25 years, 46 if you count my grown up family dogs.
How many and who we have now: All of our dogs as adults have been Great Danes, our first in 1990 Bentley, who started our devotion to the breed, Gracie, Lakotah, Molly, Higgins, Thatcher, Olive and our current two Great Danes, Watson and Phoebe
Education/Professional Experience: B.S. from Penn State University, College of Health and Human Development. Post Baccalaureate Nutrition Studies at Western Carolina University. Dog Training, originally by Jackie Bowes, RIP. The Obedience Training Club of Palm Beach County, Basic Obedience and Puppy Class instructor. Lakotah was my Obedience partner and we completed our CDX title, he was also a TDI Therapy dog. We have shown also in conformation with three of our dogs.
Skills and Areas of Expertise: Dog and Cat Nutrition, Remedies and Supplementation, Dog Training, Raw Feeding (16 years), Dog and Human relations.
What I love most about owning the store: THE DOGS! Of course we have incredible customers as well. My favorite part by far is when someone comes in with an issue, and we are able to bring their dog or cat back to good health.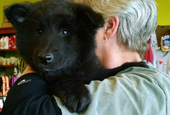 Carol Harris
How many years you've owned dogs and cats:
65
How many and who do you have now:
Lots!
Your experience with dogs and cats:
Living , Loving, care and feeding of multi cat and dog households. A 501© Cat Rescue, a farm for stray dogs. Decades of experience in Retail. Currently in process of the Andrea School of Nutrition and Animal Behavior.
What you enjoy most doing with your dogs and about your cats:
Living, Loving and Snuggling.
Why you like (I HOPE!) working at The Tailgait Market, or your favorite part of working here:
Learning and sharing knowledge. Meeting great dog and cat people. Most of all meeting and giving out treats to the wonderful pets that walk through our door.
***After Carol had been working here for a few weeks, she turned to me and said, "WOW, you have VERY SERIOUS dog people for customers!" They ARE serious about the care of their animals. Carol is now our Self-Proclaimed "Puffy-Muffin" dog person, who lends a little less seriousness to the store. Her laughter is catchy.
We Specialize in PERSONAL CONNECTIONS with our customers!